Shop Pure Yogi
Yogasana Yoga Mats- Ether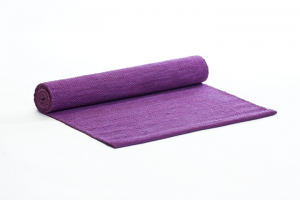 Enhance your yoga practice by including the color of mystery and meditation in your yoga environment. Ether mat is comprised of 3 shades of purple. Purple is associated with nobility and spirituality. A shade of purple is also associated with the Crown Chakra and is considered a good color for meditation. Add a touch of royalty with our Ether mat and make your yoga practice more uplifting and creative.
Yogasana eco friendly yoga mats are handmade in the region of India where yoga has its origins. We have been manufacturing cotton rugs here for the past 15 years. We applied our cotton weaving expertise to make a handmade mat that's dedicated to yoga. It takes 10 days to make each Yogasana yoga mat, and no electrical power is used. The process begins by acquiring cotton from our preferred mill. The cotton can be traced to local farmers in the region. After sorting, the cotton is dyed using a natural process. Color consistency is critical. The residual dye water is treated and used to irrigate adjacent vegetable fields and fruit orchards.
The dyed cotton dries in the sun, and then is issued to weavers. The weaving lineage of these craftsmen dates back several generations. The mat is woven on a manual loom. It takes 3 days to weave a single mat. The pride of craftsmanship is represented by the signature of the master weaver on each mat that he makes. The signature represents the passing of a mat from the weaver to the yogi. Each mat is carefully finished before final inspection, and then packaged for shipment.


$95.00