Shop Pure Yogi
Yogasana Yoga Mats- Earth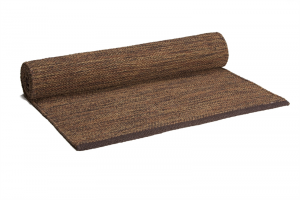 Everybody has goals for their Yoga practice – more energy, sense of calmness or a feeling of stability and focus. If your expectation from your yoga routine is to feel healthy, stable and grounded, our Earth mat will support your practice. Our Earth yoga mat is dyed in 3 earth-tone colors. Brown is a neutral and warm color. The colors are connected to stability and reliability.Representing the color of earth, these brown colors symbolize everything natural and organic. Similarly, our mat is designed to stabilize your mind and body and increase the feeling of wholesomeness during your yoga practice.Feel a connection with the earth and improve your power of self-discipline.
Yogasana eco friendly yoga mats are handmade in the region of India where yoga has its origins. We have been manufacturing cotton rugs here for the past 15 years. We applied our cotton weaving expertise to make a handmade mat that's dedicated to yoga. It takes 10 days to make each Yogasana yoga mat, and no electrical power is used. The process begins by acquiring cotton from our preferred mill. The cotton can be traced to local farmers in the region. After sorting, the cotton is dyed using a natural process. Color consistency is critical. The residual dye water is treated and used to irrigate adjacent vegetable fields and fruit orchards.
The dyed cotton dries in the sun, and then is issued to weavers. The weaving lineage of these craftsmen dates back several generations. The mat is woven on a manual loom. It takes 3 days to weave a single mat. The pride of craftsmanship is represented by the signature of the master weaver on each mat that he makes. The signature represents the passing of a mat from the weaver to the yogi. Each mat is carefully finished before final inspection, and then packaged for shipment.


$95.00