Shop Pure Yogi
Organic Eye Pillows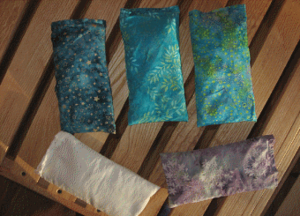 Organic flax seeds stuffed inside organic cotton muslin. Lavender Scented
Removable organic cotton.
Eye pillows relax and sooth the muscles around the eyes which relaxes the mind. Eye pillows also block out the light which is another reason they can help with deeper sleep. Fresh picked organic lavendar petals from a local farm add soothing aromatherapy for those who like it. For side sleeping, place over the upper ear to cut out noise!
Reduce Eye Strain With Eye Pillows which help relieve the symptoms of computer vision syndrome (CVS). People who use computers daily could develop CVS. Recommended treatment and prevention include a cold compress applied to the eyes for 5 to 10 minutes as needed.The Eye Pillow can be chilled in the freezer or refrigerator.
The human body is designed for naps. 'Pushing the limits' increases stress and takes a toll on health. The afternoon power nap (about 20 minutes) is built in to our circadium rhythms. Eight hours after waking up, we need a little 'recharge'. Eye pillows have a sedative effect on the nervous system by cutting out light and providing a gentle pressure.
Top 10 Benefits of Napping
1. Improves stamina.
2. Increases alertness and motor skills.
3. Reduces stress and lowers blood pressure.
4. Enlightens mood

$14.00