Shop Pure Yogi
Orange & Chocolate Exfoliating Body Scrub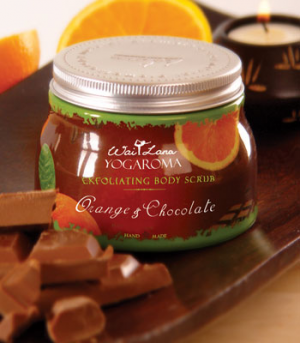 Nourishes skin and restores elasticity
Sweet, energizing aroma
Combining the exfoliating benefits of a scrub with the deeply moisturizing effects of the finest massage oils, our carefully formulated body scrubs will leave your skin soft, smooth, and supple. The scrubbing particles gently yet thoroughly remove dead skin cells and stimulate circulation, helping you to release toxins and preparing the skin to absorb the nourishing, vitamin-enriched moisturizing oils. In addition, the pleasing, therapeutic scents will linger with you long after your bath is over. These scrubs are perfect for all skin types, even extra-sensitive ones.
Our Orange & Chocolate Exfoliating Body Scrub is perfect for dry, rough, and damaged skin as it gently smoothes the skin while providing a strong moisturizing action. The sweet, energizing aroma will wake you up and lift your spirits.
Ingredients: Organic Mineral Salt, Sunflower Oil, Vitamin E, Cocoa, Coffee, Bitter Orange Peel, Orange, Chocolate.
This product does not contain animal byproducts and has not been tested on animals.
$15.00