Shop Pure Yogi
Kapok Body Pillow Organic Cotton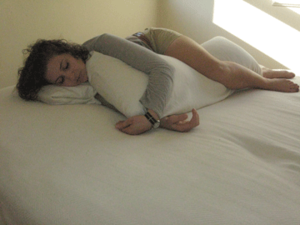 The Body Pillow offers relief from the effects of gravity.
Side sleeping can collapse the shoulders and hips. But when hugging this big pillow, the shoulders and chest are kept wide. At the same time the pillow goes between the knees to keep the hips wide. Widening the chest allows deeper breathing and relaxation, and the fetal curl is the best sleeping position according to some chiropractors.
Our kapok stuffed body pillows are sewn with organic cotton fabric, which makes them breathable to prevent sweating. We stuff our body pillow firmly, which provides good support.
You can place your head on the Body Pillow OR on a separate Head Pillow. It's fun to play with positions and pillows until you get what works for you!
Our body pillow is small to make it much easier to move it out of the way when not using it.
The body pillow doubles as an excellent bolster under the knees. It can be placed at the back of the bed during the day.
Body pillows are made with 100% cotton muslin inside with removable sateen case.
4' 2" long x 8 inches diameter "
4lbs
$88.00