Shop Pure Yogi
EcoSmart Yoga Mat Moss/Night 4mm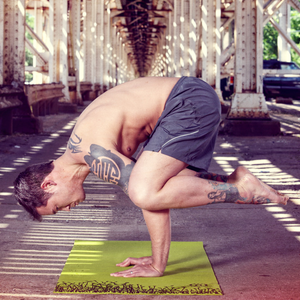 If you are going to get up close and personal with your yoga mat bowing in a child's pose or scooping into an upward facing dog, you better make sure the mat doesn't contain any harmful or toxic chemicals. Opt for the Natural Fitness Eco-Smart Yoga mat. Made from Polymer Environmental Resin (PER), an innovative material that is safer for the planet and your health than yoga mats made from standard PVC foam, this mat is for those that think the world of the environment.
Though priced cost-effectively to make it a perfect choice for beginners, because the material is easy to clean and provides excellent non-slip traction, it is also a great option for those practicing daily or intensely.
The perfect combination of Eco-conscious and consumer-friendly, it is easy to see why when it comes to yoga mats the Eco-Smart Mat gets the highest grade.
24" W x 69" L



$21.99