Shop Pure Yogi
Burst Resistant Exercise Ball 75 CM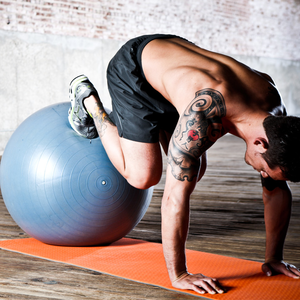 BURST RESISTANT EXERCISE BALL 75CM

FBREB75S
FEATURES:
Phthalate-free, latex-free material
Designed to deflate slowly if punctured
Proprietary burst resistant composite
BENEFITS:
Tighten, tone, and strengthen entire body
Build a powerful core
Increase total body balance and flexibility
Whether you are talking about working out, manufacturing, or the environment, what goes around comes around. If you don't believe us, look no further than Natural Fitness Burst Resistant Exercise Balls. Perfect for taking crunches, bridges, and planks to the next level, by working this piece of equipment into your fitness regimen you can look forward to improved core strength and balance. To make sure our society's future is as bright as yours, we manufacture these products using a non-toxic/phthalate-free material that takes into account your health as well as the planet's. By making these balls burst resistant up to 300 lbs., we've given you piece you mind so that you can employ this product in your most intense sweat sessions.
Latex Free.

$29.99