Shop Pure Yogi
Aurorae Yoga Mat/Towel "Synergy" (Box of 10)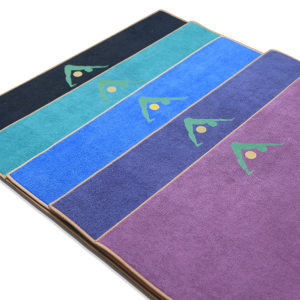 Great for Hot Yoga, Vinyasa, Ashtanga, Bikram. Bonds Our 5mm Per Yoga Mat with Our Lush Ultra Absorbent Slip Free Microfiber Towel.
Synergy Yoga Mat-Towel is the latest new development by Aurorae and US PATENT PROTECTED. This unique super deluxe slip free Mat-Towel combination, bonds our eco-safe/friendly 5mm per yoga mat with our lush, ultra absorbent slip free microfiber towel. You will experience no more slipping and no more need for a bunched-up Towel moving around on the floor. Synergy's 5mm thickness and 72" length is ideal for your safety and comfort. Easy to care for and machine washable with no odor. You will have the best of both worlds all wrapped up into one product. Synergy is the most innovative one of a kind yoga product in the market. You will wonder how you ever practiced yoga without Synergy.
"Be One with your Mat" Synergy
*No More Slipping on your Yoga mat and Great for Hot/Active Yoga where you sweat a lot
*Aurorae's lush slip free microfiber towel is the top surface with our 5mm per yoga mat as bottom surface
*No bunching or movement of your yoga towel while you practice
*For best results lightly spray the top of your mat, where your hands and feet go for down dog, with water before use
*Ultra Thick 5mm for comfort and stability to protect your joints. 72" long to fit all sizes
*Eco Friendly and safe. SGS tested and approved. Free from Latex, Silcone and Phthalates
*No Odor, Light Weight, Durable and easy to care for.
*Aurorae's Golden Sun Focal Icon to help with concentration
Washing Instructions:
* Machine Wash alone with detergent on gentle, warm water, extra rinse cycle. If you have a top loading machine with an agitator wash by hand with a brush or coarse sponge to avoid any damage to the mat. * After rinsing your mat, wrap your mat in a bath towel and squeeze excess water out. * Hang dry. DO NOT PUT IN DRYER.
*Aurorae stands for Quality and Great Personal Service. All products guaranteed.
Details
1st product of it's kind. Bonds our 5mm per Yoga mat bottom surface with our Lush Slip Free Microfiber Towel Top Surface. We bind this Super Deluxe product with a beautifully stitched border. The more you sweat the better your grip. US PATENT PROTECTED
YOGI TIP For best results I recommend at the start of your practice to lightly spray some water on the top surface of your mat. This will prevent any sliding if you have dry hands and feet.
No Longer the need to buy two products, a mat and a Slip Free towel. No Slipping, No Bunching or movement of a separate towel on top of your mat during your practice. Great for Hot Yoga practices, Ashtanga, Bikram etc. The more you sweat the better the grip.
Lush, Super Absorbent, Ultra Thick and Extra Long. Durable and Long Lasting. Easy to care for and machine washable. No Odor, Light weight and easy to carry. Eco Safe SGS approved, free from Latex, Silicone and Phthalates
There is a 10 piece minimum to order these mats.
Price listed is for 10 mats. Retail each mat 89.95






$599.00