Shop Pure Yogi
Aurorae Classic Yoga Mat ( Box of 10)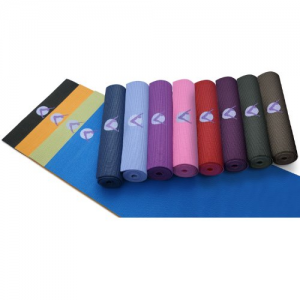 Product Description
"Aurorae" Yoga Mat 72" x 24" x 1/4" with Focal Point Icon.
* Our Unique Focal Point Icon helps you focus on your poses as well as maximize the calming and stress relief Yoga encourages.
* It's available in Great Illuminating colors that Define your Inner Self.
* The 1/4" thickness provides you with our specially designed memory foam that's thick enough to protect your knees and joints, while still allowing you to grip the floor. This Mat will mold to your hands and feet to allow you to grip the floor any indentations will disappear after time and use.
* Aurorae is one of the most durable and easy to care for Yoga Mats with Incredible Value
* This Mat has been SGS approved. The world's largest testing, inspection and Verification Company for certification and your safety.
CUSTOMER SERVICE We at Aurorae are here to serve you as best as possible! We value 5 star service so if for any reason you are unsatisfied please contact me directly through Amazon before writing your review and I am committed to do whatever possible to resolve it.
AURORAE YOGI TIPS
* Wash your mat down with a soft brush and a non oil based soap or detergent, then rinse off. Repeat if necessary.
* Hang dry outside in sun if possible. DO NOT PUT IN DRYER.
* Wash your hands with soap and water before class to reduce any natural oils in your hands.
* Do not use creams or oils on your hands or feet before your practice.
* Always keep a towel near you to wipe away any perspiration.
Remember "It's Your Yoga" "Your Island of Peace and Tranquility"
Details
Aurorae Yoga Mats- Specially Designed 1/4" (6mm) Ultra Thick Memory Foam. 72" Long with our Rising Moon Focal Icon. Free from Phthalates, Silicone and Latex.Toxin Free. 100% guaranteed
Durable and Long Lasting material/ SGS approved Free from Phthalates/Latex
Colors that Define your Inner Self/ Focal Point Icon to help concentration
New Mats take time to break in. Follow Yogi Tips included.
Must sell in groups of 10 mats-you may choose colors.
Retail- 59.95 per mat
Price is for 10 mats.




$369.00