Shop Pure Yogi
Alternative Unisex Long-Sleeve Basic Fleece Crew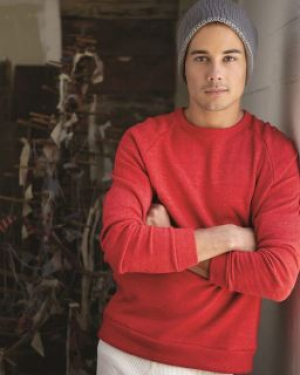 50% polyester, 46% ringspun cotton, 4% rayon
6.25% organic cotton, 6.25% recycled polyester
Resilient fabric
Regular fit with raglan sleeves
Extra wide bound set-in collar
Bands at sleeves and bottom hem
Exposed coverstitching on arm openings
Here is some customer feedback:
When those lazy Sundays come around, I grab my biggest t-shirt, comfiest sweatpants, and nearest sweatshirt. After receiving Alternative Apparel's unisex sweatshirt as a gift, this lightweight cotton blend has quickly become my new staple for not just Sunday, but for all days of the week. Despite being washed, this sweatshirt (which can also be doubled as a sweater) keeps the super soft feel that makes it hard to take off. It's a combination of cotton, eco-friendliness and comfort and actually looks good; it's practically the Prius of clothes.
This sweatshirt is one of those versatile pieces of clothing that is compatible with any type of person. Hipster's can rock the "I don't care but I actually do care what I wear" type of look, eco activists can be proud to wear something so environmentally friendly (according to their website, the sweatshirt is made up of 6.25% recycled polyester, 6.25% organic cotton, and 4%, naturally occurring rayon!), and for the more flamboyant type, the sweatshirt comes in an assortment of colors from "eco-red" to "eco-royal." Although it's definitely pricier than most sweatshirts, it's a worthwhile investment thats snug enough for the chilly fall, yet light enough for the warm spring.




$24.00